Meet the Kindergarten Teachers
Here is a brief biography of each teacher:
Mrs. Karen Hunt
I have taught Kindergarten at Smith for 7 years now. Previously I taught 3rd/4th grade at Kreeger. I also have taught 1st/2nd grades in Livonia and Kindergarten in North Carolina. I received my teaching degree from Evangel University in Missouri and my master's degree from Western Mich. University. I have 3 sons of my own ages 12, 10, and 7. I am looking forward to a wonderful year of fun and learning with your child! :)
Mrs. Emily LaPlante
Mrs. Jennifer Miller
I feel privileged to be teaching in such a supportive learning environment. I would like to share a little about myself. I graduated from Ohio State with an undergraduate degree in Human Development and Family Science, as well as a Master's degree in Elementary Education. I moved to Michigan, married my husband and began teaching in the Saginaw area, as well as Detroit. We have settled in Fowlerville with our three children. We have a third grader, a soon-to-be kindergartener, and a one year old. I love to read, travel, go hiking, and spend time with my friends and family.
I am so lucky to be able to spend each day teaching and learning with such incredible children and staff. The year in kindergarten is spent creating building blocks for learning. I aim to foster the love of learning through engaging activities, building of relationships, and high interest learning activities. I work to build a positive, emotionally and physically "safe" environment so children feel comfortable enough to stretch their learning. We explore and learn together, while meeting everyone's different needs. I want the students to LOVE school and learning.
Mrs. Molly Moulton
Welcome to Kindergarten! This is my third year of teaching Kindergarten at Smith Elementary. I live in Fowlerville with my wonderful husband, Mr. Moulton and our three kids, who all attend Fowlerville Community Schools. I graduated from Baker College of Owosso with a degree in Elementary Education specializing in Early Childhood Education and Social Studies. I have lived in Fowlerville all my life; I was raised on a farm where I still spend much of my summer. I LOVE bringing the Farm into the classroom. Outside of school I am a 4-H leader, and I think working in my garden is really relaxing!!
Mrs. Nancy Myers

Mrs. Jennie Oosterhouse
I have been t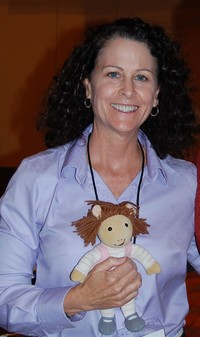 eaching kindergarten at Smith since 2004. I taught 1st and 2nd grade for 17 years in Arizona before moving to Michigan in 2001. I have a Bachelors of Art Degree from Arizona State University and a Masters of Education from Northern Arizona University. I love teaching kindergarten because everyday is a new adventure! In my free time I enjoy traveling, stamping, quilting and spending time with family and friends. I am a 12 year cancer survivor and volunteer my time with the American Cancer Society and The University of Michigan Cancer Center.

Mrs. Oosterhouse and our classroom friend D.W.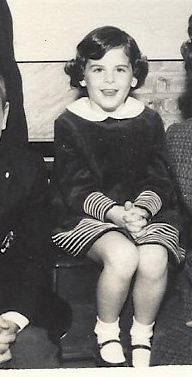 Mrs. Oosterhouse when she was around 5